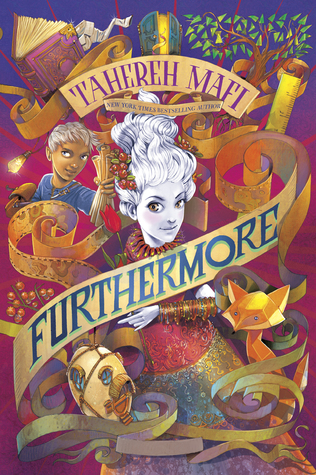 Title:
Furthermore
Author:
Tahereh Mafi
Publisher:
Dutton Books for Young Readers
Publication Date:
August 30, 2016
Genre:
Fantasy, Middle Grade
Rating:
5/5 "I loved it!"
I borrowed this book from the public library. Dutton Books and Tahereh Mafi did not request this review.
Description from GoodReads
A captivating and colorful adventure that reads like a modern day fairy tale, from the bestselling author of the Shatter Me series.
Inspired by her childhood love of books like
A Secret Garden
and
The Chronicles of Narnia
, bestselling author Tahereh Mafi crafts a spellbinding new world where color is currency, adventure is inevitable, and friendship is found in the most unexpected places.
There are only three things that matter to twelve-year-old Alice Alexis Queensmeadow: Mother, who wouldn't miss her; magic and color, which seem to elude her; and Father, who always loved her. The day Father disappears from Ferenwood he takes nothing but a ruler with him. But it's been almost three years since then, and Alice is determined to find him. She loves her father even more than she loves adventure, and she's about to embark on one to find the other.
But bringing Father home is no small matter. In order to find him she'll have to travel through the mythical, dangerous land of Furthermore, where down can be up, paper is alive, and left can be both right and very, very wrong. It will take all of Alice's wits (and every limb she's got) to find Father and return home to Ferenwood in one piece. On her quest to find Father, Alice must first find herself—and hold fast to the magic of love in the face of loss.
My Thoughts
Before we get into my thoughts on this book, I NEED to share my story of getting this book into my hands. Way the heck up here in Northern Minnesota, if KMart doesn't have it, you either buy it on Amazon or consider yourself screwed. Furthermore was my most anticipated book in 2016. August 30th came. KMart did not have it. September 30th came. KMart did not have it. Neither did our library. So, I spoke to my librarian friend and told her of my plight! She came to my rescue and bought this book specifically for our library! YES! Then, when the book came in and was processed, she didn't even bother putting it on the shelf before putting it in my hands. I picked this book up and just held it and petted it. It's so freaking shiny! I actually ran home from the library and fan-girled to my guy about it. I'm pretty sure he thought I was either crazy or going to blow up because there was so much squeaking and squealing!
Anyway, at some point I have to tell you about the amazing-ness that is Furthermore. My absolute favorite part of this book was Mafi's ability to create a new and amazing world. Even though some crazy things (rainlight, down exits, doors into other worlds) Mafi makes her audience believe that these things are totally possible because the setting is so believable. I loved that she was able to keep her facts about both worlds in this book straight. This made it so much easier for me to understand what was going on and what kind of magic worked in what world.
Another thing that I absolutely loved was Mafi's narration. I loved that she chose to write in a third person omniscient point of view. This allowed her to really add an extra level of description and plot to the story with ease. Additionally, the narrator was very good friends with the characters. This makes for some HILARIOUS chapter headings. I refuse to spoil these for you. Get the book. See them for yourself.
Alice was a wonderful character. I loved that Mafi just allowed her t be the twelve year old that she was slated to be. Mafi didn't try to make a twelve year old who was well-behaved and a perfect angel. Instead, she presents Alice as a troubled preteen who has a hard time staying out of trouble and deals with parental strife and chaos. Alice is so realistic, that I could actually picture her fitting in very well with my seventh grade class.
While the length of this book may intimidate some students, I think that it would be useful for talking about the universal ideas of self-acceptance and choices. Mafi does a terrific job not only providing evidence of these universal ideas, but of stating the theme of the novel right at the conclusion.
About the Author
She was born in a small city somewhere in Connecticut and currently resides in Santa Monica, California with her husband, Ransom Riggs. She drinks too much caffeine and finds the California weather to be just a little too perfect for her taste.
When unable to find a book, she can be found reading candy wrappers, coupons, and old receipts.