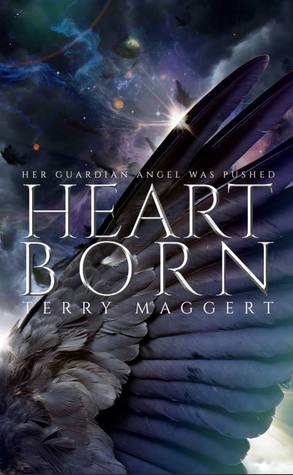 Title:
Heartborn
Author:
Terry Maggert
Genre:
Fantasy, Romance, YA
Rating:
4/5 "I really liked it."
Description from GoodReads
Her guardian angel was pushed.
Keiron was never meant to be anything other than a hero. Born high above in a place of war and deception, he is Heartborn, a being of purity and goodness in a place where violence and deceit are just around every corner.
His disappearance will spark a war he cannot see, for Keiron has pierced the light of days to save a girl he has never met, for reasons he cannot understand. Livvy Foster is seventeen, brave, and broken. With half a heart, she bears the scars of a lifetime of pain and little hope of survival.
Until Keiron arrives.
In the middle of a brewing war and Livvy's failing heart, Keiron will risk everything for Livvy, because a Heartborn's life can only end in one way: Sacrifice.
Fall with Livvy and Keiron as they seek the truth about her heart, and his power, and what it means to love someone who will give their very life to save you.
My Thoughts
I'll be honest. I have really been putting off writing a review for this book. Why? I honestly don't know which way to take my review. I mean, I loved the story. I loved that it drew me in and I loved that it broke my heart. However, it also really frustrated me. I felt like it was lacking research and that there were a few parts that just weren't realistic. I gave this book a 4/5 because of those lacking portions. I think it demonstrates Maggert's ability to pull in an audience despite such inaccuracies.
One thing about this book that made me inordinately happy is that there was almost a complete lack of errors. I hate reviewing books that are riddled with typos and grammatical mistakes. I found five completely obvious ones in this book and only a few that were quite subtle and could have been stylistic details. Another aspect of his writing that I took into consideration was the way that he flipped between POV's so much. When he wrote as Livvy or Cressa, the work was bright and brilliant. However, why didn't Keiron have a part in that? I would have loved to hear more from his point of view!
Maggert definitely delivers a romance that many will love to read about. I LOVED Keiron *insert drooly face here* and I definitely kept wondering when/if she was going to leave him and go to Dozer or what was going to happen. I could definitely feel the romance between them as they flirted, but would have loved to see that develop a little more organically. It seemed forced in this book, but the ending makes that understandably so.
Speaking of the ending, that was my least favorite part of the book. I mean WTF MATE? I love how Maggert took all of the minor characters and made them into something major. I just would like to be told what that major thing is. There is almost no explanation and I'm a little bit confused about what happened there. I'm really hoping that Book 2 will help me figure that out when it comes out!
Overall, I loved this book. I did not want to put it down as I was so drawn in by the story and beautiful fighting scenes that I had to know what happened next and who died when.
I can't wait to see how this story develops.
About the Author
Left-handed. Father of an apparent nudist. Husband to a half-Norwegian. Herder of cats and dogs. Lover of pie. I write books. I've had an unhealthy fascination with dragons since the age of-- well, for a while. Native Floridian. Current Tennessean. Location subject to change based on insurrection, upheaval, or availability of coffee. Nine books and counting, with no end in sight. You've been warned.
Let's Chat!
Have you read Heartborn? Did you love it? Do research issues or other issues bother you or are you able to ignore them?